Blue Cheese Buffalo Wings
Published on 5th May, 2022
Try making these delicious and easy blue cheese buffalo wings for your low carb Friday takeaway! Simple to make and simple to track on the app. You can add them straight from the recipe to your food diary in just seconds.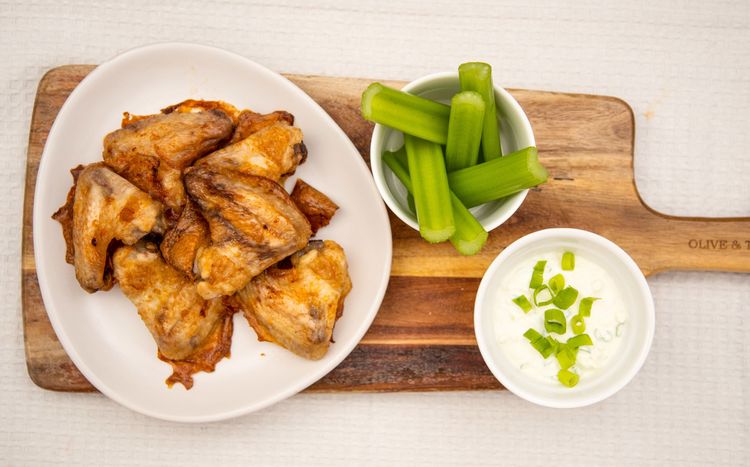 Blue Cheese Buffalo Wings
Ingredients
1 Garlic Clove
1 Egg
¼ tsp Cayenne Pepper
Salt & Pepper, to taste
6 Chicken Wings
50g Sour Cream
20g Blue Cheese
½ tsp Garlic Powder
2 Spring Onions
150g Celery
Directions
Preheat the oven to 200°C/180°C fan (390°F/350°F fan). Crush the garlic and combine with the egg and cayenne pepper in a bowl.
Season with salt and pepper then add the chicken wings and toss well.
Place on a lined baking tray and cook for 30 minutes or until crispy. Turn the chicken wings half way through.
While the wings are baking, prepare the dip by combining the sour cream, blue cheese and garlic powder. Finely slice the spring onions and mix through.
Chop the celery into batons, then remove the chicken wings from the oven and serve with the blue cheese dip.
You can also find this recipe on our extensive recipe system,
sign up now
for access to thousands of delicious recipes.